In 2018 Sarah Burgess and Sophie Lowe were living in Malaysia. Whilst away, they noticed that the fitness industries in places such as Malaysia, Dubai and Singapore were incredibly fast paced; within 60 minutes you were in, out, sweated and showered. They were convinced that a similar concept in the UK would work and believed that Lytham would be the perfect place to kickstart their dream. They set out to get people hooked on the transformative power of movement with the main goal to help them become healthier, happier, and more energetic. 
On the 1st December 2018 they opened their first studio in the centre of Lytham. They had 15 bikes, 8 of them new and 7 of them second hand squeaking when the music was off. They had ordered lights from the internet which spun around saying 'Welcome to China,' not the effect that they wanted, but, nonetheless, they were determined to make it work.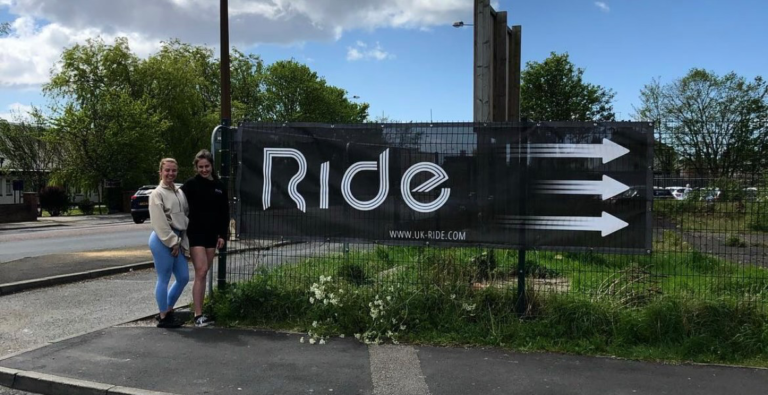 During lockdown, they decided to move their concept to a new and bigger location. Along with the new premises, they also brought on board third business partner, Rebecca Morris. She had worked in a family business and, similar to Sophie and Sarah, had lived and worked abroad so really understood the direction they wanted to go in.
The three girls opened RIDE on Whitehills in May 2021. They were initially  in mixed minds about expanding beyond cycling. On one hand, they were concerned about diluting the concept behind Ride. But on the other, they knew that in order to be truly healthy you need to have balance, which involves doing strength training, flexibility and cardio. They believed that they couldn't honestly call themselves a brand that stands for health and then only do cardio. With this in mind, they decided to add Sculpt, Yoga and Barre to the timetable, providing clients the opportunity to exercise both their mind and body.
The girls' ultimate dream is to bring their concept to the rest of the UK and, eventually the rest of the world. Watch this space.