We are the ultimate indoor cycling class, a full body workout filled with sprints, climbs and an incredible show of lights and music. We believe the bike, the beat, and the instructor are a unique combination — together they push you, ignite you and free your mind like nothing else can. Designed to push beyond the limits of the average spin class, Ride immerses you in the energy of the room to bring you an unrivalled mind-body experience.
Sculpt is Ride's answer to HIIT. This class is designed to sculpt and tone whilst maximising fat loss through a mix of running, boxing and strength sequences, all of which is choreographed to curated playlists in our signature style.
This class is not just your average workout; Sculpt is a vibe. The LED lights hit, the beat drops and you lose yourself in the energy of the Sculpt room. Sculpt is not just a workout, it's an experience.
At Ride and Sculpt, we have taken the traditional yoga practice and combined it with a music focused flow. This is complemented by our signature LED lighting and choreographed to chill house music. We feel that this provides you with the perfect vibe in order to completely relax and unwind.
Whether you are new to Yoga or more advanced, we aim to challenge everyone with a radically inclusive practice environment. We also offer both Foundation and Regular classes to ensure that every one of our customers feels welcome and able to participate.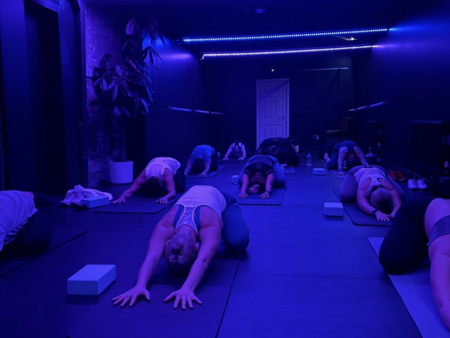 At Ride and Sculpt, we believe that Barre is one of the most effective ways to exercise and tone your entire body.
All our classes contain elements of Ballet, Yoga and Pilates – but are equally as tough as any Ride or Sculpt class, working muscles in a unique way. And whilst you may not sweat as much as you would in some of our other classes, you will find that your muscles will start to experience the notorious 'barre shakes' which means that your body is starting to transform and sculpt.
This high intensity but low impact way of working your body means that our classes are suitable for all ages and fitness levels, however we do run Foundation classes for beginners.
Concentration, control, core and flow are the main components of our Pilates Sculpt.
Using a combination of Yoga postures, weights and a steady beat to take your mind elsewhere, this workout aims to sculpt the body by improving flexibility, posture and core strength.
A great low impact workout for those who want to be kinder to their joints but still want to feel that burn!
Our Ride Studio is available for private hire.
Create a tailor-made event experience for you and your friends or team in our unique  nightclub style, spin studio. From hen parties to baby showers, to Abba themed Birthdays – we have seen it all!
Get in touch for a personalised quote.